Classic Gazpacho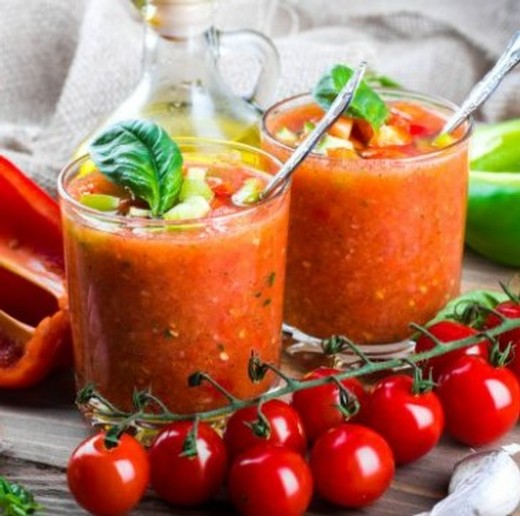 Recipe Date:
June 25, 2021
Measurements:
Imperial (US)
The flavor of this classic only gets better if you can let it sit in the refrigerator over night. A cold, raw soup that brings Spanish zest to your summer table.
Ingredients
8 tomatoes, quartered
1 red pepper, seeded and chopped
1 green pepper, seeded and chopped
8 scallions, roughly chopped
1/2 garlic clove, germ removed, chopped
1/2 cucumber, peeled, seeded and chopped
1 tsp ground cumin
1/4 cup chopped parsley
4 tbsps sherry vinegar
1 slice of stale white bread (optional for GF)
1 cup cold water
1/2 cup Arbequina Olive Oil or other fresh, grassy XVOO
salt to taste
Directions
Reserve a small amount of chopped bell peppers and cucumbers for garnish. Add the first six ingredients to a food processor or blender. Pulse a few times to combine. Add the cumin, parsley, vinegar, bread, olive oil, pinch of salt and about ½ of the water. Blend until smooth. Check for seasoning, add more salt if necessary. You may need to add more water if your soup is too thick, this will depend on the variety of tomatoes you chose. Serve with ice cubes, chopped pepper, cucumber, and croutons.
stay in the know
Sign Up For Our Newsletter
Keep up to date on the latest wine releases, events, and promotions and get 10% off your next order.