December 30, 2022 | Juliet Pouillon
Winter in the Organic Vineyard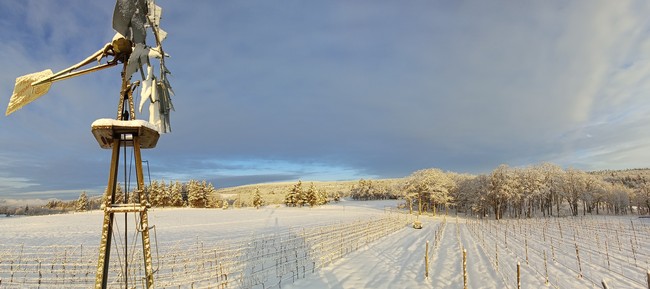 There is a beautiful memoir written by Arlo Crawford called, "A Farm Dies Once a Year." I often think about that book during the winter. It gives me solace and helps me remember that the deep winter is part of the necessary cycle of the challenging life we've chosen. Snow, single-digit temperatures, and freezing rain have shut us into a weather-imposed lockdown. From our cozy chairs, we can watch the bird frenzy at the feeder. The pine trees hang heavy with a ½" coating of ice as squirrels steal mouthfuls of chicken food to take back home. They skitter across the ice with cheeks full of corn. A family of deer seems to have taken up residence under the roof of the seating area outside the tasting room. At night, the deer raid the food left behind by the sheep. Eagles perch on the tops of trees, creating a cascade of ice and broken branches as they take flight, in search of an unwitting rabbit. The resilience of our wildlife always amazes me. It's in my nature to get caught up in weather hysteria, checking my weather app 5 or 6 times a day. And yet, there is a whole world outside our warm house that needs our attention. So we suit up, check the thermometer, and head out. The driveway needs to be plowed, chickens (and squirrels) fed, sheep (and deer) fed, and ice broken on water troughs. The wine work is done for now. Alexis and Teddi have tended the incredible harvest we brought in, proudly sampling barrels and planning final compositions. The wines sleep the winter away, awaiting the spring bottling. The vines rest dormant under a sheet of ice and snow, as the nutrients from the canopy feed their extensive root system – strengthening the plants for next spring. A deep freeze like this one is helpful to our organic vineyard. There aren't many insect pests that will be able to survive. With the pest population naturally diminished, the vines will be able to grow without the pressures of thrips, hornets, flies, and grasshoppers. In my mind, I can see the fat buds in the vineyard: downy, green, and pink. I can hear the wind whistle through the trellises. I can smell the earth warming in the sun. Spring always feels like a miracle to me, and I miss it most in the winter.
Wherever you are and no matter the weather outside, we hope you've gathered with friends and family to share love and light. Thank you for believing in what we do and for loving the wine we make. Sharing the life we have - our small vineyard, our wines, this incredible chunk of earth – it fuels our passions and gives us purpose.
Be well – Juliet P.
Comments
Commenting has been turned off.
stay in the know
Sign Up For Our Newsletter
Keep up to date on the latest wine releases, events, and promotions and get 10% off your next order.