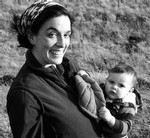 Doubtless, many of us have been thinking about the mothers in our lives more often these days than we have in the past. Our mutual lockdowns have created an environment of nurturing ourselves in ways we may have neglected, bringing into stark relief what's important, the closeness we crave and the necessities we've taken for granted. I am blessed with two mothers: my biological mother and my stepmother, both of whom I have come to have a greater appreciation for as I find new depth in myself to nurture and comfort my own children in these strange times. We can never thank our mothers enough for the time and love they gave us during their lifetimes. But let's keep trying, shall we? Mom, thank you for always answering when I call, for being a friend and confidant, offering comfort when I need it, encouragement when I have given up, teaching me skills I never thought I would need (like sewing a face mask), demonstrating how to stand up for myself and earn respect, showing me when to speak up and when to stay silent. You are loved and your love continues to grow in your amazing, hilarious, and (sometimes) bonkers grandchildren.
stay in the know
Sign Up For Our Newsletter
Keep up to date on the latest wine releases, events, and promotions and get 10% off your next order.