When you live by the weather every harvest feels unique. Each harvest starts at a different time, has its own challenges and rewards. We can tell you a story about each year and how this changed the wines and changed us… but we can't predict how this year will go!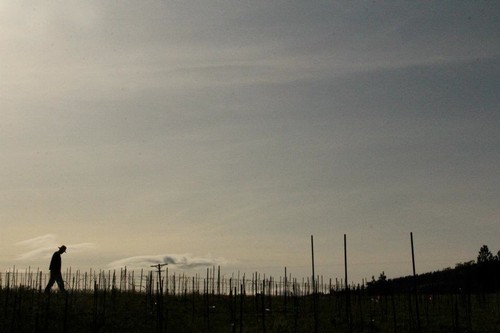 2005 – Our first crush! With purchased grapes and borrowed equipment, we pressed viognier until the press fell apart and finished the job by pounding the grapes with a sledgehammer. Exhausted and in love, we quit our days jobs. Our friends at nearby wineries shared their equipment and helped us finish 2005 strong.
2006 – Able to easily source grapes from Underwood Mountain and Horse Heaven Hills, we enjoy one of the most idyllic fall seasons. The winery is still not built, so we make our 300 cases outdoors.
2007 – The winery build begins in March and is finished just in time for our wedding in May. We convince our wedding guests to help us plant the first acre of Syrah in our vineyard before the reception. We kept the vines alive by hand-watering all summer (we don't recommend this method of irrigation for any crop over a few square feet!) We start selling our wines in the fall and meet our first wine club members: The Harpers!
2008 – Alexis figures this is the best harvest we've had so far. Great weather and perfect fruit help us get up to 2000 cases with the assistance of Sean Davis, who now owns and operates his own award-winning winery in the Willamette Valley: Marshall Davis Cellars!
2009 – The name of the winery official changed from Domaine Pierre Noire to Domaine Pouillon. A very hot and early harvest with a few handfuls of our estate grapes being thrown into the mix.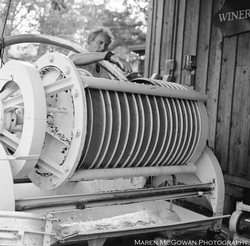 2010 – A cycling angel from the east coast, by the name of John Walsh, crosses the country to help us finish planting and irrigating the vineyard. He stays on for a cool and late harvest. Patience paid off in 2010 with excellent balance and structure in the wines. A wildfire starting on Old Hwy 8 burned all around us in August.
2011 – Brrr. Our coldest year yet! Only one day in 2011 was over 90˚F and this led to underripe fruit that needed extra care in the winery and long cellar aging before release. So late and cold was this harvest that we produced our first (and only) Ice Wine, Saint Lyle du Frigo. 100% viognier frozen on the vines, and oh so good! This year, we were lucky to have a young Brendan Simpers of Willow Wine Cellars help us out on the crush pad. Our first child is born in November, just a couple of weeks before we wrapped up harvest!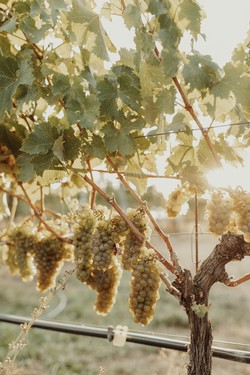 2012 – A 'Goldilocks' harvest, and our first real harvest from the estate vineyard. Braced for another cold and difficult harvest, we were pleasantly surprised (and much wiser!) to have perfect fruit in abundance. Plans began to build a new tasting room near the vineyard.
2013 - Now harvesting fruit from our Estate Vineyard, McKinley Springs, Underwood Mountain, Larsen Ranch, McCarthy Vineyard, and Coyote Canyon we experience how the grape harvest can stretch from early September to Thanksgiving. Cameron Larson joins our team and makes a lasting and positive contribution to our wine family. We love you Cameron!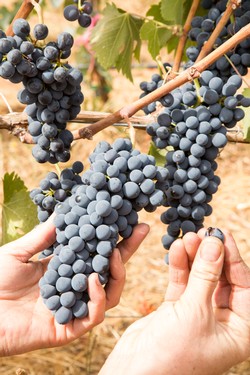 2014 – A superabundant harvest in Washington and Oregon. The quality of the grapes was outstanding, but pushed our small winery to its limits! We finished our new tasting room in February and welcomed our 2nd child in the same week.
2015 – A dry, hot summer led to another great harvest capped off by a hard frost in October. We expanded to other markets, selling wine in DC, MD, NY, and VA. Kyle Ocean joins our sales team and develops a disc golf course in the vineyard and helps us host an incredible 'haunted warehouse' for Halloween.
2016 – Sara's first harvest! We harvested Syrah for rose around Sept 14th. Unfortunately, this year, Alexis experienced a car accident 2 days before harvest and our focus became helping him heal. Much of the winemaking and fun of the harvest, fell by the wayside. In the end, Alexis is all healed up and we had lots of wine to sell in our cellars!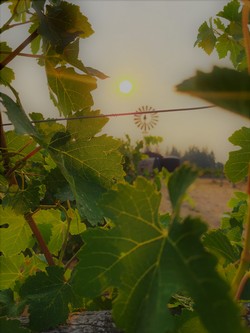 2017 – Family member, Tyler Damato shared his humor and NYC hipster knowledge of natural wines with us. And who could forget that Solar Eclipse? By far the biggest event from 2017 was the Eagle Creek Fire. The fire started over the Labor Day Weekend and high winds carried embers from the inferno nearly ½ mile across the Columbia River. We were very fortunate to not be affected by the fire, but many of our neighbors were – losing crops, homes, and belongings.
2018 – Teddi joined our team as our Assistant winemaker! Bringing a wealth of knowledge from multiple harvests in different hemispheres, she has elevated our winemaking style. 2018 was a strange weather year, with lots of cold temperatures in June and hard rains starting in October – making for an extreme rush to get all the fruit picked before it was washed out.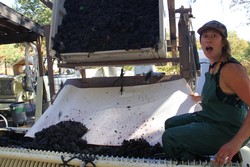 2019 – Heavy snowfall and late bud break. Summer temperatures were cooler than in previous years, with a notable lack of heat spikes. Rains began early in September and forced us to pick early. Tomas Sinor from Sinor-LaVallee Winery joined us with his youthful demeanor and strong back – two qualities we prize very highly around here!
2020 – Ahh… 2020. The year we all remember! In case you weren't in the PNW for the summer and fall conflagrations: heart-breaking fires raged all around us causing devastation and some of the worst air quality in the world from 9/11-9/14 with particulates getting up to 687. Smoke damage caused crop loss in all our grapes except the pinot we use to make Pet-Nat. At least we had something to drink during the lockdown and quarantine.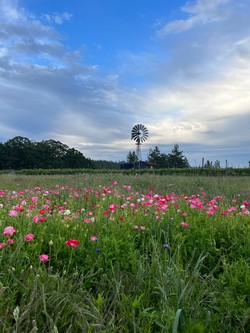 2021 – Remember the record-breaking heat dome that started in May? Our peak temp in the vineyard was 122˚F. Despite that, acids held up well and the weather cooled down in September and October allowing for longer hang time than expected. Alexis and Teddi continue to make excellent wine and their skills brought in 2 platinum and 1 gold medals!
2022 – An extended wet and cool spring with April snowfall of about 9" means the vineyard is three weeks late in ripening. Considering the inconsistency in weather from year to year, it's impossible to predict if that will translate into a good or bad harvest. As always, we keep our fingers crossed and our eyes on the grapes. The saying goes, "The best fertilizer is the farmer's shadow on the soil."
stay in the know
Sign Up For Our Newsletter
Keep up to date on the latest wine releases, events, and promotions and get 10% off your next order.