What is the value of being a part of a wine club? For starters, it is much more than just receiving wine twice a year. To us, our wine club members are the foundation on which we thrive. They keep us going year after year, financially and emotionally.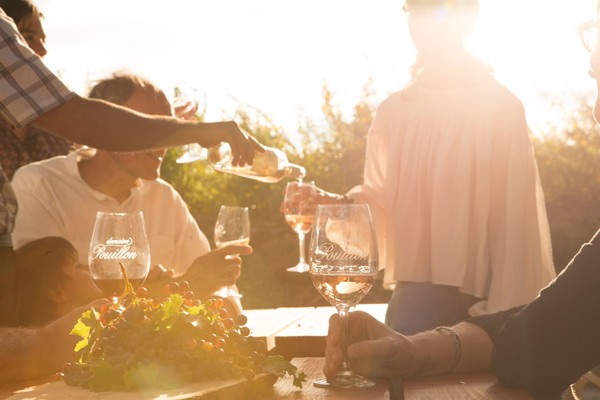 Twice a year we get really busy preparing our club shipments. Every spring and fall we offer 6 bottles of wine to our club members. When you are part of our wine club, you of course get perks and discounts that others do not. This includes a 20% discount across the board, on wine, merchandise, and ticket purchases for example. Free tastings for you and a guest… although this is common with wine clubs, this really is a huge benefit because you get to keep coming back, experiencing our vineyard and wines as we cycle through them season after season, year after year. One of the things we are proud to offer in the Grand Cru is the ability to customize your allocation, both with substitutions and additions, so you will never be stuck with a wine that isn't perfectly up your alley! Although, if indecisiveness is a thing for you, we make it easy by choosing the newest, greatest vintages that we offer.
On occasion, wine club members get access to wines that are club exclusive. This past spring, we had two bottles that this applied to, our Estate Syrah 2018, and our Pinot Noir 2019. There are times when we are only able to produce so many cases of a certain wine, so rather than making it available to everyone, we only allow access to our members. Another great perk is the ability to attend events that are only available to our club members. Covid-19 really threw a wrench in the in-person events that we used to have, which although necessary, didn't make it any less devastating. Now two years later, we are opening up more and more, bringing back old events and even trying out new things.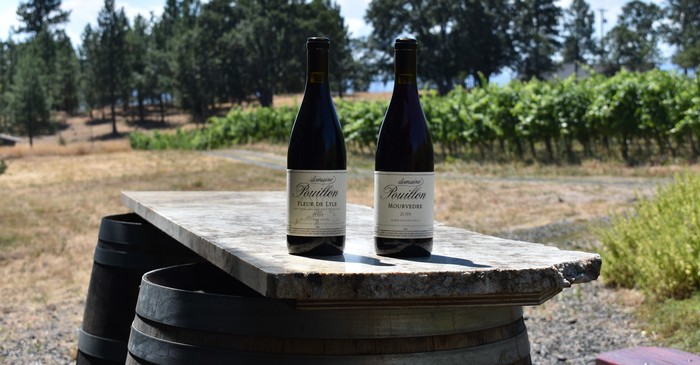 For this fall club release, we are having a new event called Farm Days. Rather than the traditional club party where we have food and music (which is great), this time we wanted to extend a tour of our whole operation to our club members. Come tour the vineyard with owner and winemaker, Alexis Pouillon, and learn about terroir while tasing our club wines. Taste locally sourced food pairings from Chef Juliet Pouillon and tour the winery with Assistant winemaker Teddi Fuller. This fall we have 2 different reds that we are very proud of. A single varietal Mourvedre and Fleur de Lyle, our Cabernet Sauvignon and Syrah blend. Both are from 2019, an exciting vintage for these varietals. The summer of 2019 was notably cooler and considerably more even than in recent years. We picked early as frost and rain approached in early October. These somewhat cooler temperatures contributed to lower overall sugar accumulation and higher acidity which makes the Mourvedre just shine and the Fleur de Lyle a bit more restrained than in previous years.
The time, love, and energy that goes into making wine is extensive. It is a process that takes years, from when spring comes and the vines come back to life, as the grapes grow in size over the summer, to Harvest time when the grapes are picked and crushed, as they age and ferment over time, to eventually getting bottled and then later released for all to enjoy. When you become a club member, you support us in this long, but joyous work. We love our club members and could not do this without them.
-The Domaine Pouillon Family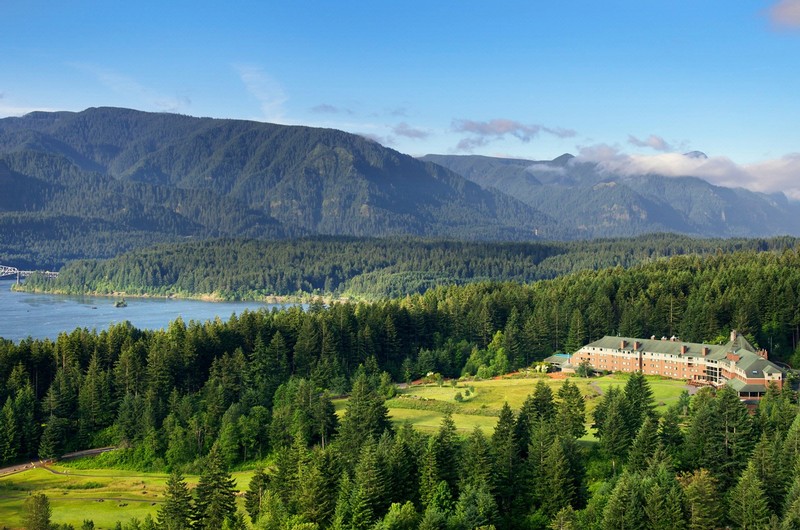 On February 25th, our winemaker Alexis Pouillon and our wine club manager Sara Dyberg were able to attend and be a part of an amazing event at the Skamania Lodge in Stevenson, WA, called the "Coeur of Discovery". The event was a French Master Chef Benefit Dinner consisting of a six-course meal, wine from multiple Oregon & Washington wineries, and one great cause at the heart of it all. Imagine a French Master Chef on the Lewis and Clark expedition, also called the "Corps of Discovery", in awe of the bounty of food and wine offerings provided by the Northwest. The abundant discoveries culminated in a French-inspired evening of six courses that included the most delectable items from the region.
100% of the ticket sales were donated to the Blanchet House, a nonprofit organization in Portland providing meals, clothing, and life-saving shelter programs to people in need. The Blanchet House serves 3 meals per day, 6 days per week to anyone who is hungry. Their mission is to alleviate suffering and give hope for a better life. Something Domaine Pouillon is always happy to be a part of is giving back to causes and charities that we support.
As part of our involvement, we brought six different wines to pair with the dinner: our 2018 Katydid, 2019 Pet-Nat, 2019 Blanc Du Moulin, 2018 Pinot Noir, 2018 Riesling, and our 2019 New Normal. Some standouts from the menu were the black cod with crispy pork belly and lemongrass oyster bouillon, as well as a wine poached forelle pear dessert with an almond financier crumble and sea salt mousseline. The four Master chefs involved in the event were Olivier Gaupin, Phillippe Boulot, Eric Truglas, and Skamania's own Zac Janssen. According to Sara, she said the event felt very jubilant, and everyone was thrilled to be participating in an event that had 100% of the ticket sales being donated.
The Columbia River Gorge is a special place, one that we feel very lucky to call home. The Gorge has a rich history, particularly that of Lewis & Clark and the Oregon Trail, but also the thousands of years of Native American history. Being invited to participate in a local event that paid homage to this history felt incredible. We want to thank Skamania Lodge for inviting us to the Coeur of Discovery dinner and we hope to collaborate more in the future.

Life has a funny way of coming full circle. The ebbs and flows of life and where it takes you can be the most wonderful of surprises. Here is my story and the story of how I came to work at Domaine Pouillon, the family winery you all know and love.
My name is Sierra; I grew up in White Salmon, WA, after spending the first 5 years of my life living in various other states. White Salmon, which is in the Columbia River Gorge (same as Domaine Pouillon), drew my family in because that's where our family was from, at least my dad's side of the family. The Larsen family settled in White Salmon in the 1890s after immigrating from Norway, upon receiving land from the Homestead Act. The act required that recipients had to "improve" the plot by building a dwelling and cultivating the land. As time progressed and after they completed the large barn structure, they set off to complete their 4-story farmhouse and begin their long lives on the land that was theirs.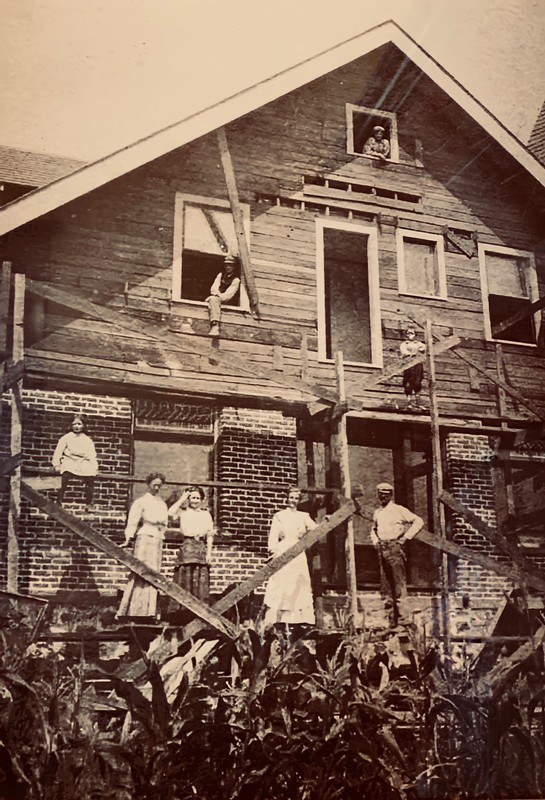 For generations, my family has lived in this home, passed down from son to son in the 1900s. I was lucky enough to live there many years myself with my parents and brother when I was a kid. I feel so lucky that back before the internet and cells phones took over, I had a childhood filled with outdoor exploration, riding bikes up and down the long private drive, making leaf forts in the fall, sledding down the hills in the winter, and climbing the cherry trees in the summer in search of a delicious, dark cherry. Overall, "The Farm" as we call it, became known as a cherry orchard, which my grandfather Don 'Donny Guy' Larsen ran for many years.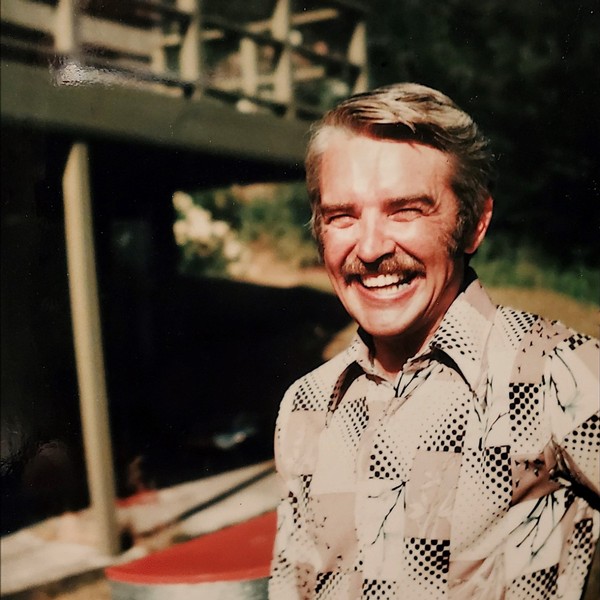 Around the year 2000, my family tore out a lot of the cherry trees that had been there for decades and started to incorporate grapes into the land. They ended up calling it Jewett Creek Vineyard; named for the creek that runs through the property. Even though I moved away for high school, and eventually on to college, and so on, The Farm was and always has been home. I have many fond memories of spending holidays up there, staring out at the beautiful view of Mt. Hood and watching the vines and cherry trees change color during the various seasons.
I met Alexis and Juliet probably around 2010, somewhere in there. At this point, the two of them had started a business relationship with my grandpa Don and my aunt and uncle, who now own and reside at the property. Domaine Pouillon gets their Pinot Noir, Chardonnay, and Pinot Gris grapes from Larsen Vineyards, as it's now called, as well as Gewurztraminer once upon a time. I remember the first time I drank wine that was produced with my family's grapes; I was right around the age where I was legal to drink and was also getting excited about the idea of becoming a "wino." I felt so proud and thrilled to taste something that was grown on the very same property that I grew up on, in a place where my great-great-grandfather had come to and started a family.
One particularly fond memory I have was when I was living in Seattle in 2013 and working at a local grocery store called The Ballard Market. I had just found out that our store started to carry Domaine Pouillon's Gewurztraminer, which was made with 100% of my family's grapes. I ran over to the wine department, found the bottle, brought it up to the floral department where I was working, and started snapping pictures. I left a bottle up there as a selling tool as well. I'd say, "If you like wine, I highly recommend this bottle. It comes from this great family-owned winery near where I grew up and the grapes actually come from my family's vineyard." I was beaming because even though I knew I had nothing to do with the winemaking or growing process, I was still so proud to show off my family's stuff, and Alexis & Juliet's wines.
That was a day not too long before my departure from Seattle and The Ballard Market. In October 2013, I took off on a three-month solo trip to Europe, which was the adventure of a lifetime. A highlight of that trip was sipping wine in the various cities I visited, like Paris and Madrid, but especially all-around Italy. I lost my cell phone halfway through the trip, which I was devastated by at the time, but in the years since I have always been grateful for that. I was very present in each moment, letting myself experience the adventure with all my senses. Florence was amazing, I could have stayed forever, but shortly after I stayed and worked at a winery in Tuscany for over a week called Il Bacio "The Kiss," and it stole my heart.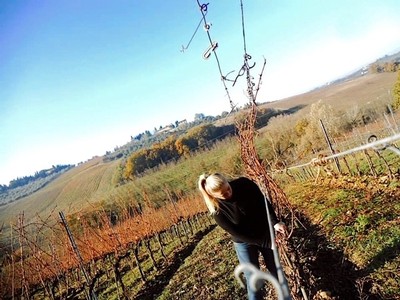 Waking up to the early morning Tuscan light, pruning while the morning chill and fog wore off, then watching the sky open to reveal golden fields and rows of cypress trees was just such a treat. Of course, I can't forget returning to the house when I heard, "Mangiare, mangiare," to enjoy lunches and dinners with the family who owned and operated the place. The food, wine, and conversations were so special, it almost feels like it never really happened. Perhaps I dreamt the whole thing…
I did not realize at the time that one day I would change career paths and come to work at another family winery, but not for another 8 years!
Once I returned to the US, I ended up relocating to Arizona, where I even worked at a wine bar for a time, before eventually moving to SoCal 7 months later. In California, it felt like anything was possible. Any dream of mine could be fulfilled there, even far-off Hollywood dreams from when I was a kid. Ultimately, after a few years spent there, I really started to miss home. It took me traveling the world, moving away to different states and climates to realize in my heart that home for me was and will always be the PNW. California was of course beautiful and thrilling, but after a while, the lack of rain, lush forests, and mountains really got to me. I also missed my friends and my family.
At this time, in 2016, I had a decision to make on whether I was to move back to Seattle, to Portland, or back home to White Salmon. Something drew me back to Seattle, so I followed my heart and returned to the place I had left 3 years prior. A few months after returning, I ended up finding a job working as a floral sales representative. Later that year, I ran into a guy I knew from years and years ago and ended up wonderfully hitting it off. Long story short, after a few years we got engaged and soon thereafter moved to Portland, OR together and was able to transfer with my job. As we were planning our wedding, set for October 2020, we like everyone else in the world had to deal and adjust to life during a pandemic. I admittedly drank lots of wine during this timeframe, coping with the stress of it all, all while trying to plan my dream wedding. Just before getting married, we had been searching for somewhere in the Gorge where we could move to and settle down. Finally, the perfect house popped up, thirty minutes away from where I grew up. Everything felt like it was falling into place, even with the stress of the pandemic.
We got married on October 10th, on my family's vineyard and orchard, the place I had always dreamed of getting married at. Despite Covid and some rain, it was a beautiful day spent with our closest friends and family. As the months passed, and as I was getting more and more used to being married and having our own home in a small town again, I started to feel like it was time to move on from my job and "The Big City". I had now worked there for four years, and a lot had changed and happened to me during this time. I just felt like I outgrew it and that bigger, better things were on the horizon. When my aunt told me about the opening at Domaine Pouillon, it felt like something clicked. It was intimidating, sure, to leave a large company with all the bells and whistles for a small, family-owned business, especially during the times of Covid. However, the thing that "sold" me was how they take care of their employees and the general values they stand for. It was hard to not feel like "just a number," at a corporate job. At Domaine Pouillon, it is literally a family, and everyone has each other's backs, and everyone here contributes to the overall success of the winery. I could have real lasting change and impact here. Many perks existed, such as it was in the Gorge and not Portland, so I could feel like a part of the community I grew up in again. It was a winery, with a beautiful vineyard and idyllic views from every angle. I left fluorescent lights for natural lighting, mixed in with the sound of nature and the wind.
I think back to years ago when I would see Alexis, Juliet, and the kids in Seattle, when they were up there for business and staying at my aunt's home, where I also lived in the basement apartment. Sometimes I would even watch the kids for a bit while they had dinner or business to attend to. It's been a fun experience to see the kids grow and change, especially now that I see them nearly every day.
Serendipity is my favorite word, mainly because it's so easy to get caught up in the struggles and hardships of life, especially these days, but when we stop and admire the serendipitous moments in our life, then the real magic can happen. As I reflect on my life, it really does feel like a full-circle moment for me to be working here. How serendipitous was it that they had an opening just at the same time I was thinking of working elsewhere?
Domaine Pouillon's values are Community, Stewardship, and Family. They care for the community that they are a part of, and they give back when possible because they want to make a difference. They treasure the land that they live and work on and that love, and commitment are translated in the amazing wines they produce. Family is very important to them, perhaps above all else. Their family of course, but also the family that is made up of their staff and customers. Since I've come to work here, I feel like a weight has been lifted off my shoulders. They know that work is important, of course, but also that there is much more to life than working. The balance and the culture that is to be found here are exciting and calming all at the same time. I'm excited for all that is to come.
I'm thankful that Alexis, Juliet, Gigi, JP, and all of the staff here have welcomed me into this Domaine Pouillon family. Cheers to good wine, good people, and a good day's work.
stay in the know
Sign Up For Our Newsletter
Keep up to date on the latest wine releases, events, and promotions and get 10% off your next order.